Flexible offices are a concept which we have been listening to it for a few years ago. This term is often associated with technology companies and their famous offices with a unique design and unusual spaces for rest and leisure of the same workers.
In case you have never heard of a flexible office, here you will be able to understand it and know if you work in one of them.
Flexible offices seek to respond to new market needs, in this case, work processes. Companies have realized that to maximize the productivity of each person, workers must feel free, comfortable, and have a sense of belonging. All this has meant leaving behind the traditional model of offices, to welcome work areas, rest areas, agoras to share knowledge, vegetation, and lighting to create a more relaxing environment. These changes allow the employee to choose where to work and with whom at all times. It is a good method for project working strategy.
This type of office has started to gain a lot of importance after the Covid19, and they have realized that the way people work after teleworking has changed radically.
The Covid19 health crisis forced all companies – large and small – to find new work processes and watch out for solutions very quickly. Telework was imposed on us even for those companies that were not prepared. That shift changed us, changed the way we work and relate to each other, and "flexible offices" made more sense than ever.
And what are these flexible offices like? Here are the five characteristics to have a flexible office.
Open spaces. The American office with large floor plans and 2×2 cubicles is a style that is impossible to see today. The new flexible offices have open areas and outdoor zones to facilitate communication between workers. This type of orientation and lack of walls eliminates company hierarchies.
2. Lightning. The more natural light, the better. With natural lighting, people feel good and work better, whit that we increase our motivation and productivity. That is why it is very common to use large windows in offices and open spaces to avoid a lot of artificial lighting.
3. Vegetation. Flexible offices usually have a lot of green. They leave behind cold areas to create a much more natural environment and have spaces that evoke an outdoor area.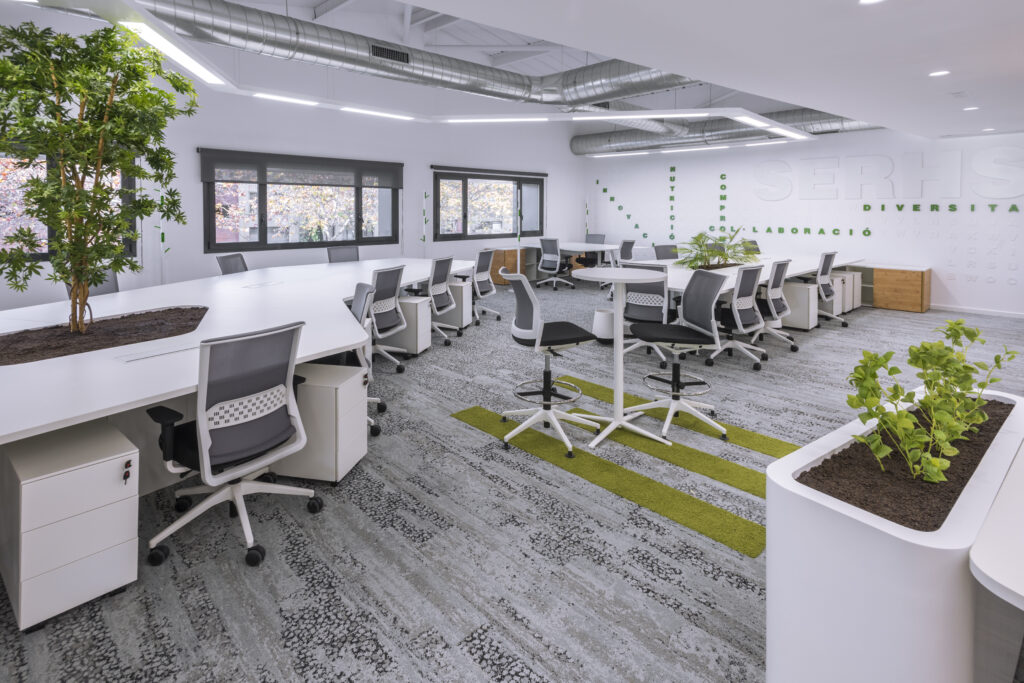 4. Knowledge zones. They are the evolution of meeting rooms. It is very important in the same company everyone communicates between all departments. These lighthearted conversations can greatly help people's performance, as you see different points of view and opinions. That is why it is necessary to create areas especially for this purpose: informal knowledge areas such as an agora to encourage this type of meeting.
5. On-site and virtual. We have opened the door to a new way of working. But this does not mean that we have to forget about the company's offices. But they must be aligned to receive this fusion between face-to-face and virtual life. Communication between people who are online and offline is as easy as possible. That is why innovation and technology applied to offices are essential.
We encourage everyone to make a reflection and see if your offices are flexible or not and if you need to make this change. This new office model has a very positive impact on the lives of the people who work in the company.
At GAC 3000 when it comes to creating concepts for workplace projects, we like to innovate by applying all the client's needs; creating unique spaces to increase the productivity of the people who work in the company, and applying a different design with a strong brand to reinforce the belonging of everyone.
Are you interested in applying a flexible office concept to your company?